Origami 3D Christmas Tree with 1 piece of paper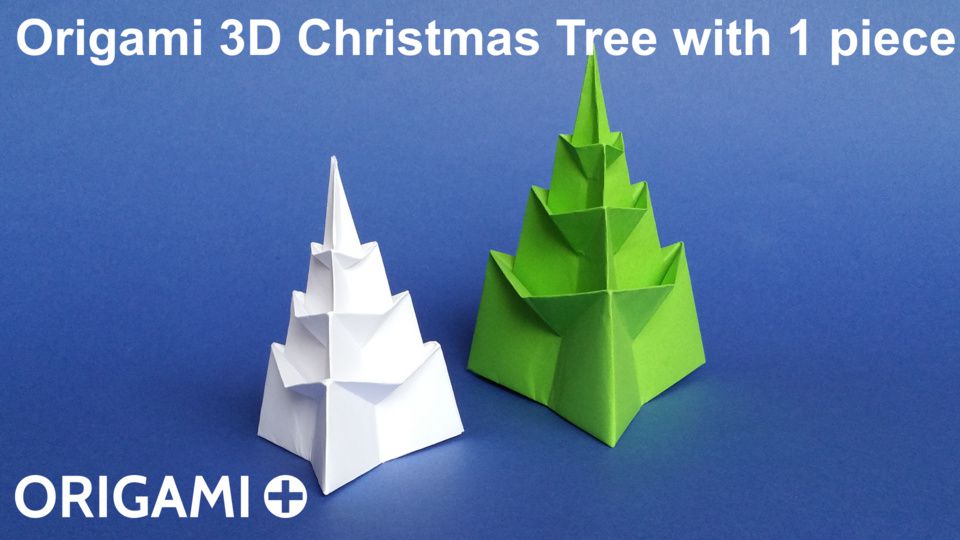 Original model created on 1/11/2016 - Published on 17/11/2016
Origami 3D Christmas Tree with 1 piece of paper instructions and tutorial
This beautiful origami Christmas tree is very easy to make, and you just need one piece of paper (plain copy paper is perfect) and about 10 minutes to fold it. No cuts, no glue, no tape! This paper Christmas tree is in 3D, it will stand on its own, and it has pockets on each side that you can use to put small paper Christmas decorations to decorate your tree.
To make the tree in the video, I used standard copy / printing paper. I'm cutting a square from a A4 size paper, but you can use letter size or any size. Only one side of the paper will show, so you can use 1 color or 2 colors paper.
Green paper is perfect for this model, but if you don't have it, it will also look very good in white, as it will make a very beautiful snow covered Christmas tree!
Once you have your green or white paper, just follow the folding instructions in the video.
This Christmas Tree is a very easy origami model, and it is very quick to make, especially compared to other 3D Christmas trees that use multiple squares of paper of different sizes (such as my older modular Christmas tree model).
You can make as few or as many levels of "branches". For your first tree, I recommend 3 or 4 levels, but you can make trees with many more levels, especially if you make a large Christmas tree. The tree height will be about half the width of your square of paper.
As you will see in the video tutorial, there is no precise location for the levels and the depth of the branches, so you can make lots of very different trees! In the video I also show how to make a less angular and more round tree, and a simpler version that looks more like a pyramid.
Important note: this 3D origami Christmas tree is an original origami model designed by Stéphane Gigandet, protected by copyright laws. Please do not publish videos, how-tos, tutorials, diagrams etc. that show how to fold this Christmas tree, and instead embed or link to this video.
Origami 3D Christmas Tree with 1 piece of paper video instructions
To make a 3D Christmas Tree with 1 piece of paper in origami, please follow the instructions from this video on YouTube:
Please share this 3D Christmas Tree with 1 piece of paper with your friends!