Origami Boat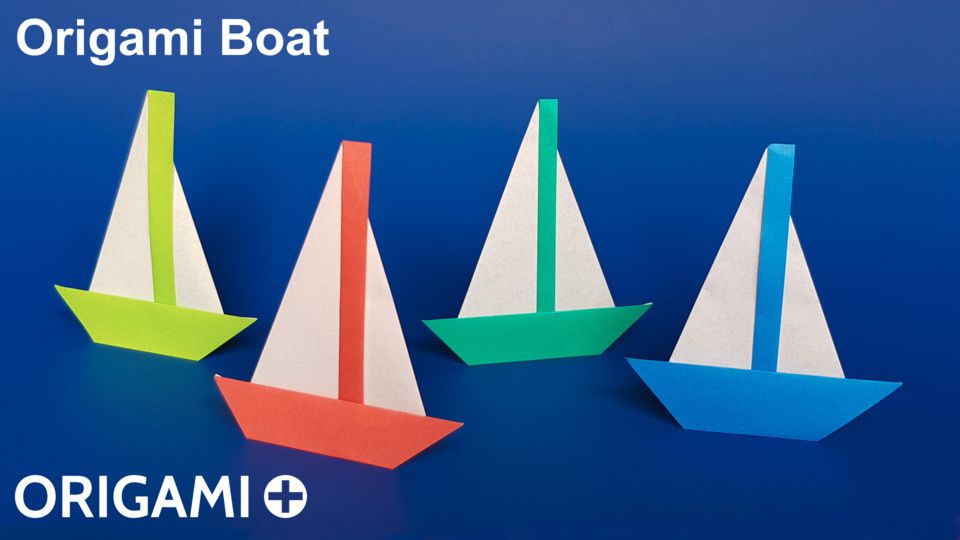 Original model created on 15/10/21 - Published on 21/11/21
Origami Boat instructions and tutorial
Almost all kids make paper boats, which is one of the most common topic in origami, along with the origami heart, paper hat, traditional origami boxes and flying paper planes. But nearly all origami boats are the same two traditional origami model: the simple origami boat that floats, and another traditional origami boat with two sails but without a mast. The easy 2 minute origami boat that I show how to make in this video is a new model that I created. It's very simple, but I looked all over the internet and could not find one like it, with its evocative color mast. I hope this new origami boat model will bring more diversity to the world of origami sailboats!
Note: this origami boat is not a floating origami boat, but you can make it stand by itself (which is great to take cool photos of your origami sailboat), or lay it flat if you prefer.
What I like the most about this new origami yatch model is that you can easily change the width and location of the mast and the size of the hull. So you can make many very different paper boats!
Take Part in the Origami Boats Map!
I'm hoping that you will fold a lot of origami boats, and that many of you will send me pictures of your paper boats so that I can add them to the world map of origami boats on my Origami Plus website.
I received many pictures for my previous maps (the worldwide origami pumpkin patch, the origami butterfly flyaway, and the origami Santa Claus Christmas Eve journey), thank you so much for participating!
Let's see if this origami boat will travel the world and the seven seas! I hope we can put as many countries and cities as possible on the origami boat map!
Please send me pictures of your origami sailboat at stephane@origami.plus or on Facebook.
Origami Boat from Square Paper Step-by-step Folding Instructions
Material: to fold this origami boat, you need a square paper with 2 different colors.
In the video I use a 15x15 cm sheet of origami paper to make the origami boat, but you can use other sizes, including smaller sizes, as this origami sailboat does not have a lot of folds.
In the video I go very slowly to make sure everyone can see where to fold, so it takes a bit more than 2 minutes. But once you have folded your first origami boat, the next ones should take 2 minutes or less.
Main steps of the folding instructions from the video: 1. Fold the mast of the origami boat 2. Fold the first sail of the ship 3. Fold the second sail of the sailboat 4. Fold the hull
Important note: this origami boat is an original origami model created by Stéphane Gigandet protected by copyright law. Do not publish how-to videos, folding instructions, diagrams, origami tutorials etc. that show how to fold this origami boat, and instead link to this video or embed it. Thank you!
Origami Boat video instructions
To make a Boat in origami, please follow the instructions from this video on YouTube:
Please share this Boat with your friends!