Origami Christmas Tree Ornament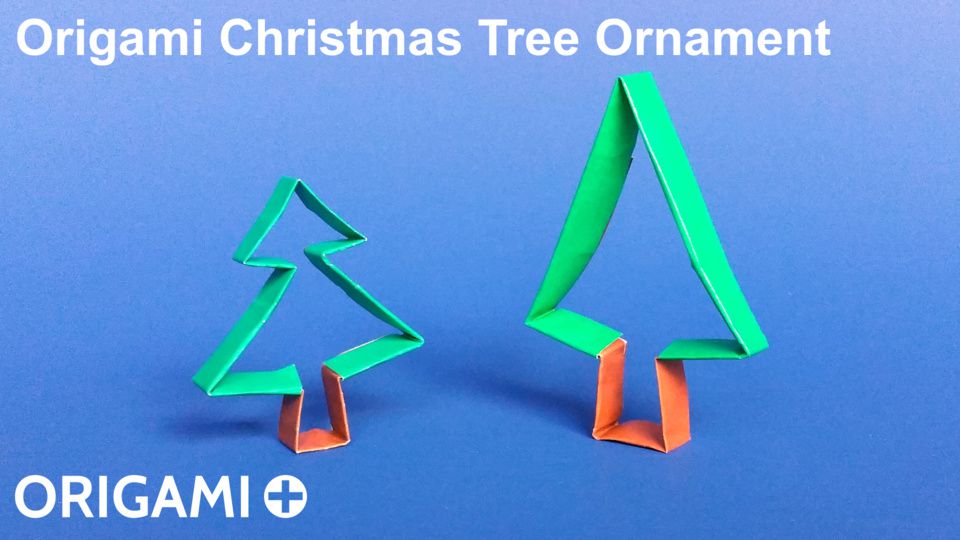 Original model created on 01/09/17 - Published on 13/12/2017
Origami Christmas Tree Ornament instructions and tutorial
Decorate your Christmas Tree with those easy to make DIY origami Christmas ornaments made with paper! The DIY paper ornaments can be hung in your Christmas tree, and they can also stand up on their own to make a Christmas decor for your room or house. Making paper ornaments is a great Christmas DIY project for kids, and they will be very proud of their homemade Christmas decorations!
In this video, I show how to make origami ornaments made out of strips of paper (no tape, no glue, you just need paper). The ornaments have the shape of the silhouette of a Christmas tree, like a cookie cutter to make Christmas cookies.
Making the Christmas tree shaped ornaments is very similar to the making of the origami paper star that I created, I recommend that you start with the Christmas star first as it is a bit easier (only 1 strip of paper instead of 2 for the tree ornament). Here is the video tutorial for the origami star: https://youtu.be/m29JFxBcQlY
The idea for this Christmas tree comes from the great origami artist Eric Vigier when I showed him the origami Christmas star model.
To make the tree ornament, you need 2 strips of paper. In the video I use strips with a 1 by 4 ratio. I cut a 15x15 cm (about 6x6 inches) square of origami paper in 4 strips.
You need one green strip for the branches and one brown strip for the trunk.
Once you have folded your Christmas tree ornament, you can use some thread to hang it in a Christmas tree, or use it as is to make a cool DIY room decor for the Holidays. Try my other matching origami models to go with it: the Christmas stars, a couple of origami reindeers, and Smiling Santa Claus!
I also made many kinds of easy origami Christmas trees, in 3D and multiple levels. They are easy to make, and there's even a Christmas tree with snow on its branches.
Origami Christmas Tree Ornament video instructions
To make a Christmas Tree Ornament in origami, please follow the instructions from this video on YouTube:
Please share this Christmas Tree Ornament with your friends!