Origami Cube Gift Box / Flag Box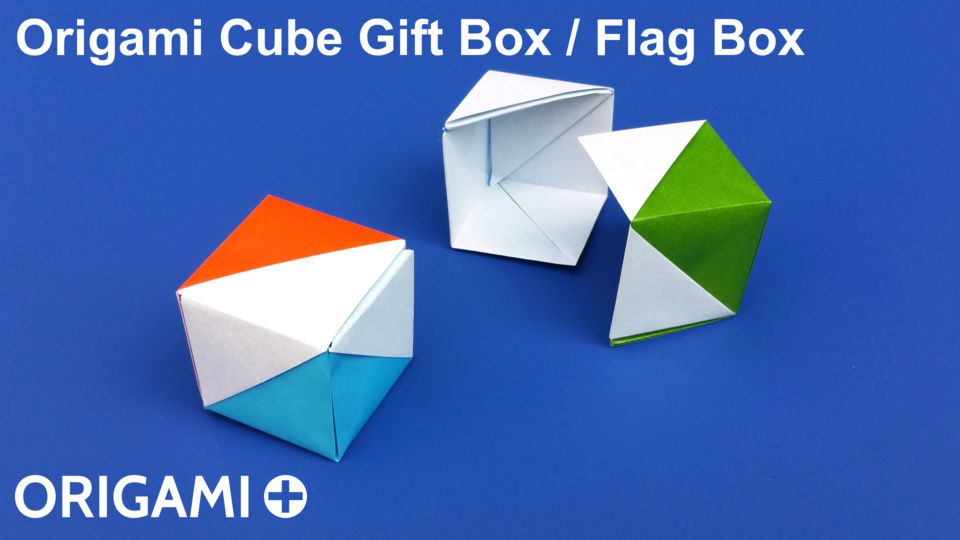 Original model created on 1/06/2017 - Published on 17/07/2017
Origami Cube Gift Box / Flag Box instructions and tutorial
A very easy and quick to make cube shaped origami box that is perfect for small gifts. You can make this paper gift box in a few minutes with 2 squares of paper. With 3 colors you can also make a "Flag Box" that looks like a 3 bands flag (horizontal or vertical) that many countires have.
The origami cube box is made from two identical modules that each have one pocket and one flap. To close the origami box, insert the flap of each module in the pocket of the other module.
Both sides of the paper will be visible, so you can make an origami gift box with 1, 2, 3 or 4 colors, depending on whether you use sheets of single color paper or duo origami paper, and if you use different colors for each of the two sheets of paper. This simple origami model also looks very good if you use paper with printed patterns.
In the video, I use a yellow and white sheet of origami paper, and an orange and white sheet. Both are standard 15x15 cm (about 6 inches) origami paper (kami).
This colorful paper box will be perfect for small Birthday, Anniversary etc. presents and homemade Christmas gifts. You can also use the boxes as Christmas decorations to use as balls to decorate your Christmas tree.
What are you going to put inside your origami box?
Origami Cube Gift Box / Flag Box video instructions
To make a Cube Gift Box / Flag Box in origami, please follow the instructions from this video on YouTube:
Please share this Cube Gift Box / Flag Box with your friends!