Origami Cube of Pyramids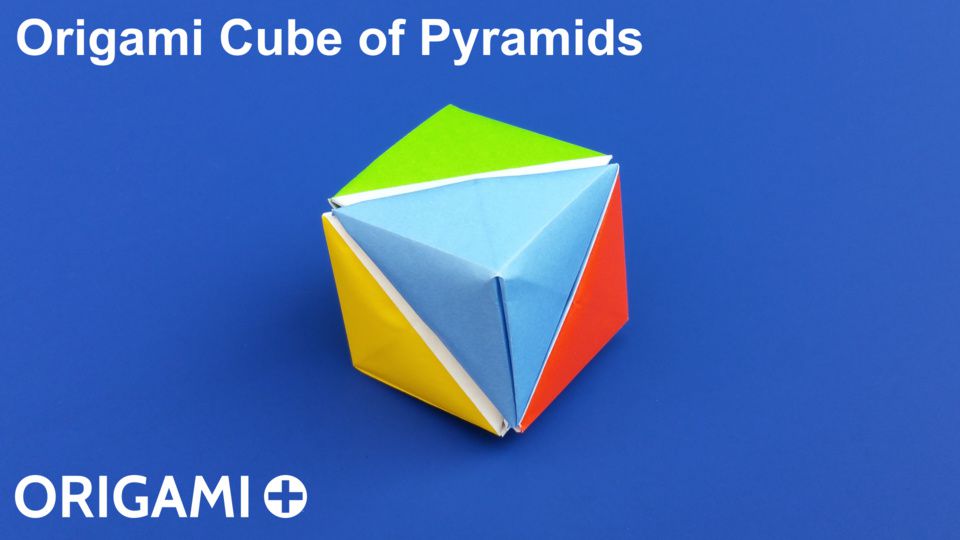 Original model created on 01/05/2017 - Published on 21/06/2017
Origami Cube of Pyramids instructions and tutorial
Learn how to make this colorful origami cube with the easy step-by-step instructions of this tutorial. This paper cube is a modular origami cube, made of 4 squares of paper. Each square is folded in a pyramidal module, and you can join 4 pyramid modules, without glue, to form a cube. And with more of the same pyramid units, you can make bigger origami kusudamas.
Update 15/12/2019: Gerardo Gacharná Ramírez, an origamist creator from Colombia, as informed that he created essentially the same model in 2012. His model is called the Trihedron cubic box.
Once you have folded the paper pyramid modules and assembled your origami cube, you can roll it like a dice, or even put a small gift inside and use it as a gift box. In a next video, I will show you how to make a similar looking cube gift box with just 2 square sheets of paper. Please subscribe to get notified of new origami models and tutorials and to encourage me to create more of them!
To make the modular origami cube, you need 4 squares of paper of the same size. In the video, I use 15x15 cm (about 6 inches). You can use duo paper with a different color on each side, or use paper with just one color.
Each module take only a few minutes to fold. You can join 2 modules to make a kind of diamond, 4 modules to make a cube, 5 modules to make a star / flower, and more modules to make balls of pyramids. At the end of the video, I show a pyramids kusudama that I made with 20 modules. The bigger kusudamas are not as easy to assemble than the cube, so please start with the cube first.
Origami Cube of Pyramids video instructions
To make a Cube of Pyramids in origami, please follow the instructions from this video on YouTube:
Please share this Cube of Pyramids with your friends!