Origami Cubes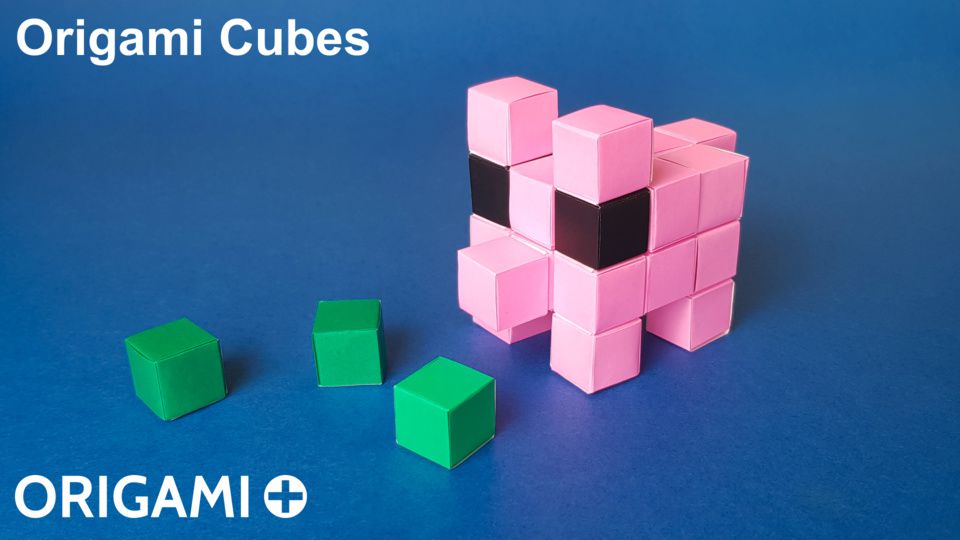 Original model created on 01/01/2022 - Published on 13/03/2022
Origami Cubes instructions and tutorial
Learn how to join origami cubes without tape or glue to create cool paper Lego or Minecraft origami animals and characters, paper flowers decorations, fun papertoys and all kind of easy to make paper crafts. ▶ Step by step instructions to make the easy origami cube.
Important note: this new origami cube design is an original origami model created by Stéphane Gigandet protected by copyright law. Do not publish videos, instructions, diagrams, tutorials etc. that show how to fold this origami cube, and instead link to this video or embed it, or link to the https://origami.plus website. Thank you!
This tutorial shows how my new origami cubes can be connected to build modular origami creations. It takes only 2 minutes to fold an origami cube, and with a single square sheet of origami paper (15x15 cm or 6x6 inches), you can make 4 paper cubes.
The paper cubes are joined with simple paper clips that you can slide in the openings in the edges of the cubes. The clips are made with 2 by 1 paper strips (from the same 8 by 1 strips used to make the origami cubes).
Once you have folded some paper cubes, you can let your imagination run free and create paper characters, paper animals, paper flowers, paper buildings, paper toys and all kinds of papercrafts! It's like Minecraft in real life!
Origami cubes are like paper Lego bricks or Minecraft blocks, and the best part is that you can easily make as many cubes as you need, in any color you want.
In the video, I'm showing a few examples of what you can build with origami cubes: - a paper flower decoration (perfect as a desk decoration or coffee table decoration) with a stand and/or a leaf - a Minecraft sword. Minecraft items can be a great source of inspiration! Making Minecraft in real life construtions is a lot of fun! - a cute origami pig (with a stop motion Minecraft animation) - a Soma cube puzzle: it's a very fun game for kids and adults. You have to assemble Tetris like game pieces to make a 3 by 3 cube. It's not as easy as it seems and there are hundreds of different solutions.
The paper cubes pig was first designed by my 13 year old son using Minecraft. Designing your origami cubes builds in Minecraft first is an easy and quick way to experiment different designs. Once you are happy with the result, you can then fold the necessary origami cubes and assemble them to make the final paper model. If you don't own Minecraft, you can use the free and open source clone Mineclone or the free Minecraft classic (there's even a version that you can run in your browser).
Origami Cubes video instructions
To make a Cube in origami, please follow the instructions from this video on YouTube:
Please share this Cube with your friends!