Origami Elephant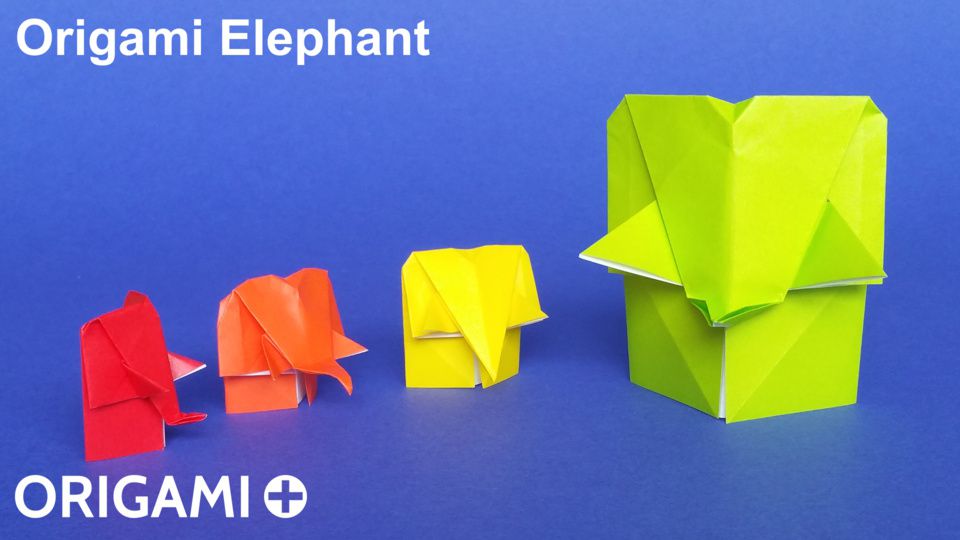 Original model created on 01/09/2016 - Published on 07/09/2016
Origami Elephant instructions and tutorial
Learn how to fold a cute and original paper elephant with this step by step origami elephant tutorial and instructions. This elephant has a big trunk and big tusks, and it can easily stand.
There are at least 1000 origami elephant models, but I could not resist to create one more elephant, so now there are at least 1001 elephants!
To make this origami elephant, you will need one square piece of paper. Only one side of the paper will show, so you do not have to use 2 color paper. In the video I am using 15x15 cm origami paper.
This elephant model is a bit special because it is both 2D and 3D. You can make it in 3 dimensions and make it stand. Or you can flatten it completely in 2 different ways: a front view or a side view.
To fold the elephant, you have to make some very precise folds, so I do not recommend it for origami beginners (there are lots of easy origami elephant models to choose from, especially models for just the elephant face or elephant head). It is not a very hard origami elephant either, I would recommend it for intermediate folders.
I designed this elephant for the Origami USA world record for the largest display of paper elephants.
Important note: this elephant is an original model, please do not make videos, diagrams, howtos or tutorials that show how to fold it, and instead point to this video. Thank you.
In a next video, I will show you how to turn this elephant into a very cool elephant box, so please subscribe to get notified! :-)
Origami Elephant video instructions
To make an Elephant in origami, please follow the instructions from this video on YouTube:
Please share this Elephant with your friends!