Origami Elephant Box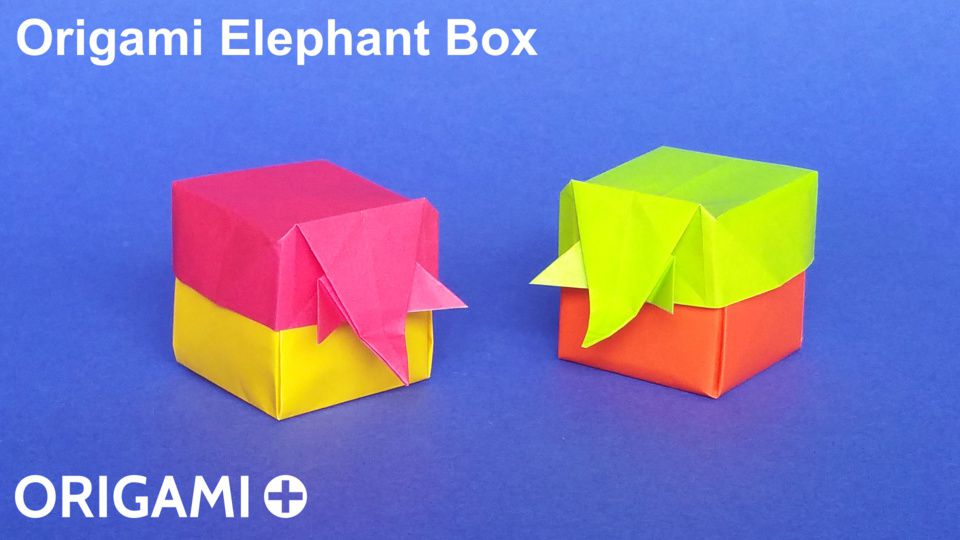 Original model created on 01/09/2016 - Published on 15/09/2016
Origami Elephant Box instructions and tutorial
Do you like this cute origami elephant box? You can make one by just folding 2 pieces of paper, no cuts, no tape, no glue! The elephant box is a very strong origami box with a lid and you can use it to keep small objects like jewels. And of course the elephant box makes a very original and beautiful gift box for your presents.
The box is made of two parts: a cubic box, and an elephant lid. You can of course use different colors for the lid and for the box. It's a great DIY project, you can make several boxes to store your small craft supplies.
Paper size: - 1 square of paper for the cube box. I recommend at least 15x15 cm (about 6x6 inches) which is the size I used in this tutorial. - 1 half square of paper for the elephant lid. I used a 15x7.5 cm rectangle.
You do not have to use origami paper with different colors on each side. Only one side will show. You can also use plain copy paper.
It's best to first fold the cube box as it will be easier to make a lid that fits the box perfectly. The tutorial for the cubic box is here: https://www.youtube.com/watch?v=P5ahGVoby2U
I also recommend that you first fold this elephant before folding the lid: https://www.youtube.com/watch?v=osKeb9ursJA It has the same elephant head as the elephant lid, but you can fold it with a larger piece of paper. e.g. with a 15x15 cm square, your elephant head will be 4 times bigger than the one you will need to fold for the lid from a 15x7.5 cm rectangle.
If you fold an elephant first, it will then be much easier to fold the elephant lid.
Important: this elephant box is an original origami model by Stéphane Gigandet. Please do not make videos, diagrams, how-tos or tutorials that show how to fold the box, and instead point to this video. Thank you.
Please send me pictures of your elephant boxes, I will put them on the http://origami.plus site, and I will show them in a next video (with your name of course).
What are you going to put into your origami box?
If you like this box, please leave a comment and share with your friends. Thank you! :-)
Origami Elephant Box video instructions
To make an Elephant Box in origami, please follow the instructions from this video on YouTube:
Please share this Elephant Box with your friends!