Origami Halloween Pumpkin Box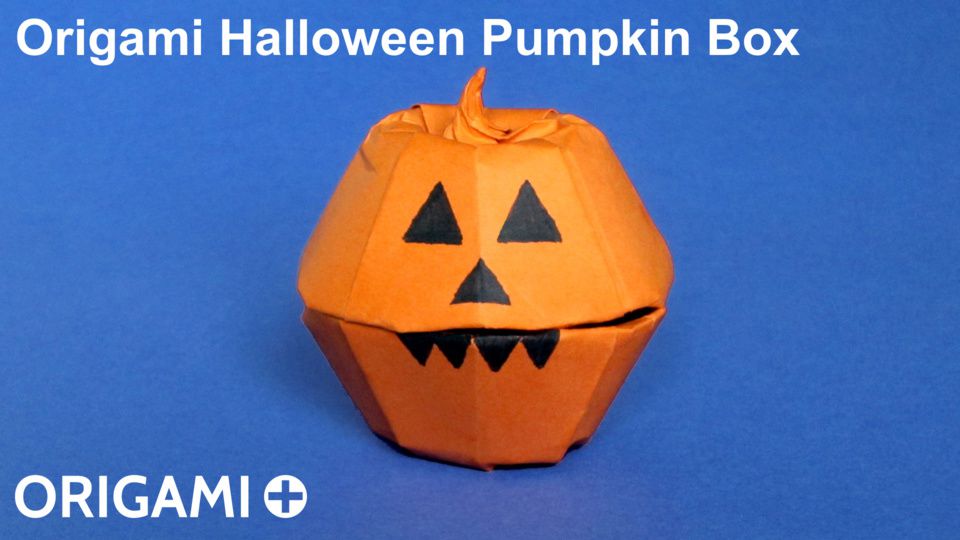 Original model created on 15/09/2016 - Published on 21/09/2016
Origami Halloween Pumpkin Box instructions and tutorial
For Halloween make a paper pumpkin box the quick and easy way! It takes only a few minutes to make an origami pumpkin box with a lid, and then you can decorate it to make it look really scary.
This pumpkin box is my newest origami model. It is very easy to make, and everyone can make it, even young kids and origami beginners. The folds are easy, and they do not have to be precise. For this model, you can fold very quickly. It's what I call quick and dirty origami, or messy origami.
With messy origami, not only will you be able to make a pumpkin very quickly, but it will be different from all other pumpkins. Just like in real life when you go to the pumpkin patch!
To make an origami pumpkin box with a lid, you will need two square pieces of paper. One is for the bottom of the box, and the other is... (will you guess?) ... for the top.
The top of the pumpkin box has a stem that you can use to lift the lid.
In the video I use 15x15 cm squares of paper (about 6x6 inches). You can use larger paper to make larger pumpkins.
Any paper will do (I use very cheap orange origami paper which looks like copy paper). The paper does not need different colors on each side, but you can use duo paper as only one side will show. If you do not have orange paper, you can use white copy paper (A4 or letter), and color one side with pencils, crayons, ink, paint etc. If you use glossy origami paper like kami, it could be more difficult to draw the eyes, nose and mouth of the pumpkin, depending on what you plan to draw with.
Once you have folded your pumpkin box, you can use it to store small pieces of candy, or you can try to turn it into a Jack O'Lantern lantern by putting a LED light in it (no real candles of course!).
Origami Halloween Pumpkin Box video instructions
To make an Halloween Pumpkin Box in origami, please follow the instructions from this video on YouTube:
Please share this Halloween Pumpkin Box with your friends!