Origami Heart Cat Bookmark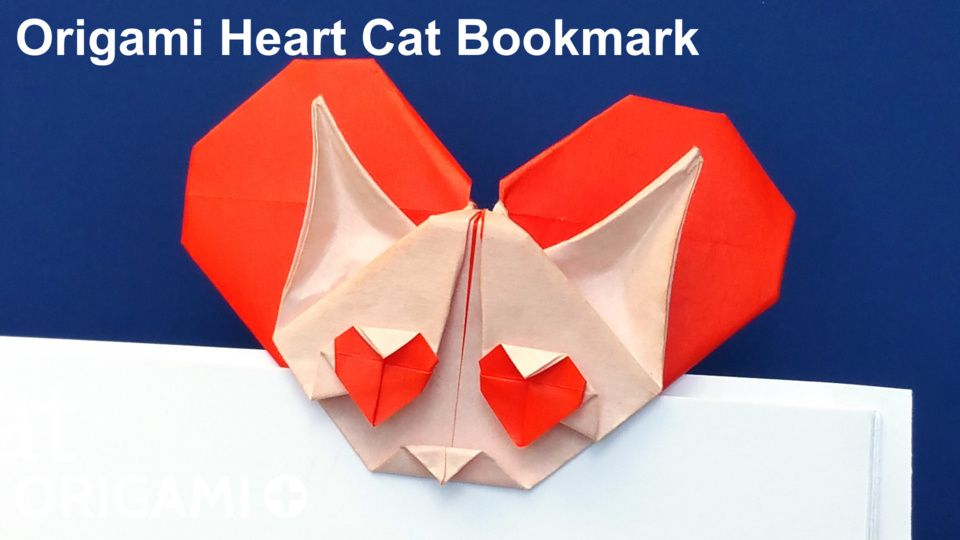 Original model created on 05/05/2017 - Published on 07/06/2017
Origami Heart Cat Bookmark instructions and tutorial
In the last video (the easy lotus flower model), I showed 5 new origami models and asked you which one you wanted a tutorial for, and this cute origami cat bookmark was definitely the most popular! So here is the tutorial to fold the kitten bookmark, dedicated to Alejandra, Annette, Gaétan, Ladislav, Martina, Mathieu, Paul, Philippe and Walter who asked for it, and also to Sergito who folded it even before a tutorial was available.
You can use this origami heart bookmark as a corner bookmark, or you can put the pages of the book under the mouth of the origami cat.
To make the heart cat bookmark, you need a square piece of paper with a different color on each side (origami paper "kami" with a colored side and a white side is perfect, or you can use duo paper with two colors if you have some). In the video, I use a 15x15 cm square (about 6 inches). There are tiny folds for the heart shaped eyes, so it's best to use 15x15 cm or larger paper.
Which model would you like next? To replace the cat bookmark, I'm adding a new design: an origami ice cream cone made with one sheet of paper (and of course no glue and no cuts). Please let me know in the comments of the video which is your favorite design, so that I can easily count the votes.
Important note: this origami heart cat bookmark is an original origami model designed by Stéphane Gigandet. Do not publish tutorials, diagrams, videos, instructions etc. that show how to fold the heart bookmark, and instead link to this video or embed it. Of course you can show the finished origami bookmark model that you have folded in videos, photos and social networks, but not how to fold it. Thank you.
Origami Heart Cat Bookmark video instructions
To make a Heart Cat Bookmark in origami, please follow the instructions from this video on YouTube:
Please share this Heart Cat Bookmark with your friends!