Origami Ice Cream Cone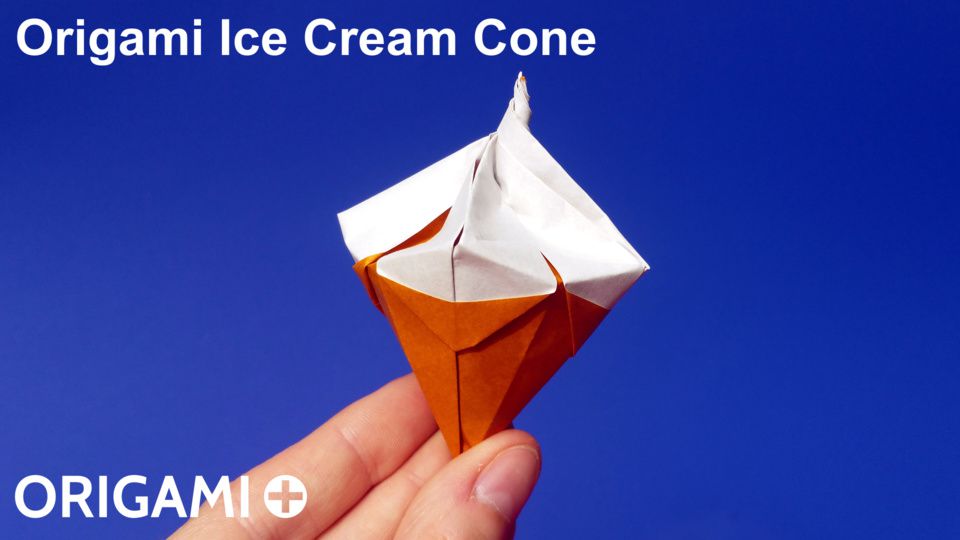 Original model created on 01/02/2017 - Published on 16/06/2017
Origami Ice Cream Cone instructions and tutorial
It's summer! The perfect time to make a delicious origami ice cream! This DIY ice cream cone is made from only 1 sheet of paper, without cuts and without glue. It's easy to make and it is in 3D so it looks very realistic, especially with the swirls and twirls of soft ice cream on top of the paper cone.
Most origami ice creams are made with multiple sheets of paper, and/or you need to cut or glue the paper. You can make this paper ice cream by folding only one square of paper. No cuts, no glue, all natural organic origami paper! :-)
To make the origami ice cream cone, you need one square of paper with a different color on each side. You can use origami paper (kami) that has one colored side and one white side. The white is perfect for a vanilla ice cream. And with dark brown on the other side, you can make a chocolate cone, or a biscuit cone with a lighter brown / yellow. Of course if you want other flavors and toppings (raisins, chocolate etc.) you can use patterned duo paper.
In the video, I use a 15x15 cm square (about 6 inches). It makes a small ice cream, so I don't recommend folding this origami ice cream model with smaller paper. But you can use a larger square of course, it all depends how hungry you are for soft ice cream!
Origami Ice Cream Cone video instructions
To make a Ice Cream Cone in origami, please follow the instructions from this video on YouTube:
Please share this Ice Cream Cone with your friends!