Origami Love Lady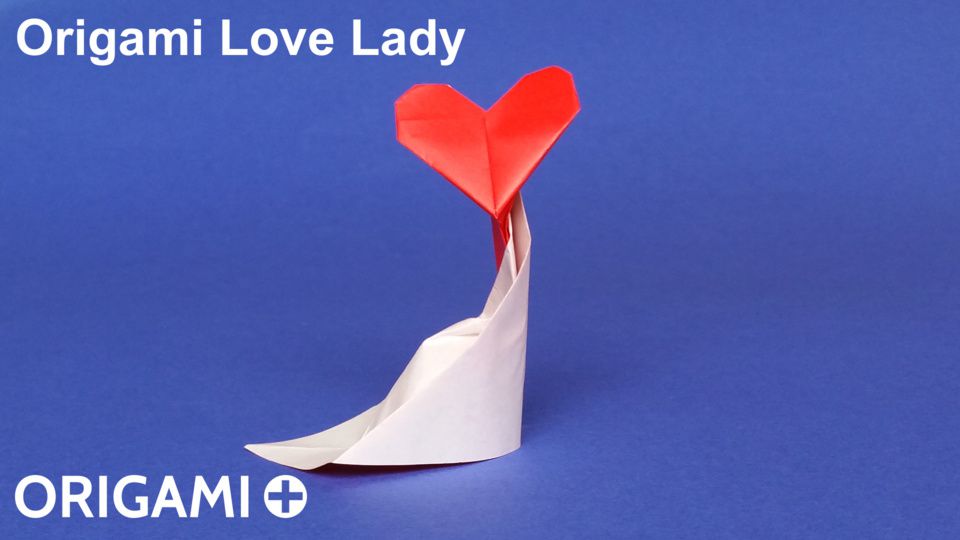 Original model created on 14/02/2016 - Published on 06/01/2017
Origami Love Lady instructions and tutorial
Make a very original origami heart model for someone you love! This easy origami Love Lady model is a great Valentine DIY gift for Valentine's Day. It could also be a nice gift idea for Mother's Day. The origami Lady of Hearts has a big heart shaped face, and a long white dress. It could also make a nice table or cake decoration for engagements and weddings.
There are many different origami hearts models, the heart shape is one of the most popular themes in origami. I especially recommend the works of the great origami designer Francis Ow who has created amazing origami hearts: the famous origami heart with wings, double hearts, an heart with an arrow, another with a key, an origami envelope for your love letters, a origami ring with an heart, an origami heart box etc. You can find many of his models in his book "Origami Hearts".
So it's hard to come up with new and original origami hearts models, but I think this origami Queen of Hearts is an interesting model, thanks to the nice contrast between the red and angular heart head and the white, soft and wavy dress. Please let me know what you think of it!
If you use bicolor paper, the heart will be of a different color than the dress.
After folding, you can shape the dress as you like to make it curvy and wavy, and you can slighly slant the heart face if you wish.
Origami Love Lady video instructions
To make a Love Lady in origami, please follow the instructions from this video on YouTube:
Please share this Love Lady with your friends!