Origami Lover Boy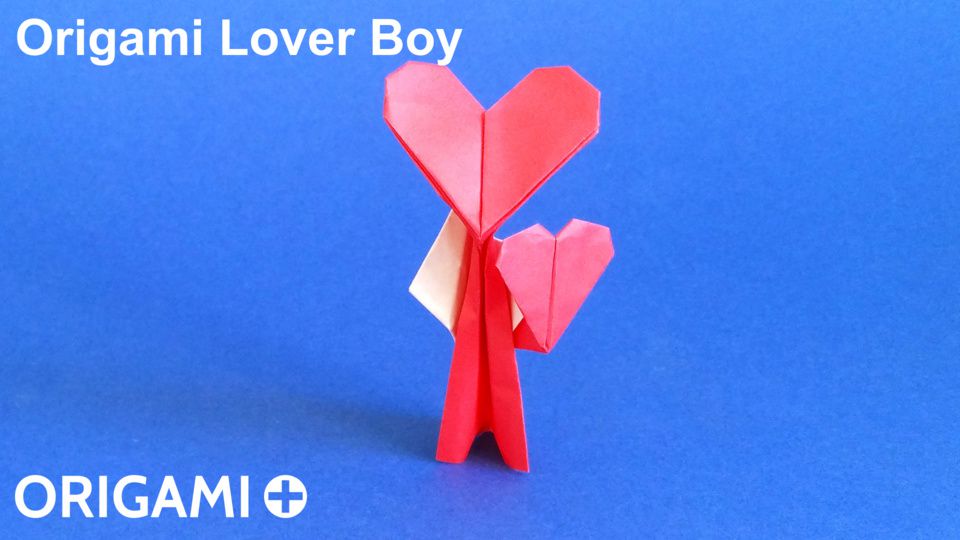 Original model created on 03/01/2017 - Published on 13/01/2017
Origami Lover Boy instructions and tutorial
For origami lovers: a Lover Boy origami model with a big heart face and a smaller heart in his hand (a box of chocolates?). This origami lover is the perfect match for the origami Love Lady model. Fold both of them for Valentine's Day and give them to that special person you love! Those DIY lovers made from paper can also make great DIY gifts for other occasions than Valentine's Day: like Mother's Day, weddings and engagements. And of course they are perfect for all the persons who love origami. :-)
I designed the Love Lady model last year, but she was a bit lonely, so I tried to create a man with a big heart head, and after many failed attempts, this paper loverboy appeared.
This male love character is a little bit more difficult than the female Lady of Hearts, so I recommend that you start with the female model first. The first part of the video tutorial is common to the male and female lovers.
Origami Love Lady tutorial: https://youtu.be/ITnuSMlMR7Q
For your first model, try to use a big enough square. In the video I use a 15x15 cm square of duo paper.
It can be a bit tricky to make your lover stand, as it did for me in the video, which is a good thing so that I could show how to adjust the legs and feet to make this origami loverboy stand.
Important note: this origami Lover Boy is an original origami model designed by Stéphane Gigandet, protected by copyright laws. Please do not publish instructions, diagrams, videos etc. that show how to fold this origami heart boy, and instead embed or link this video.
Origami Lover Boy video instructions
To make a Lover Boy in origami, please follow the instructions from this video on YouTube:
Please share this Lover Boy with your friends!