Origami Mister Rabbit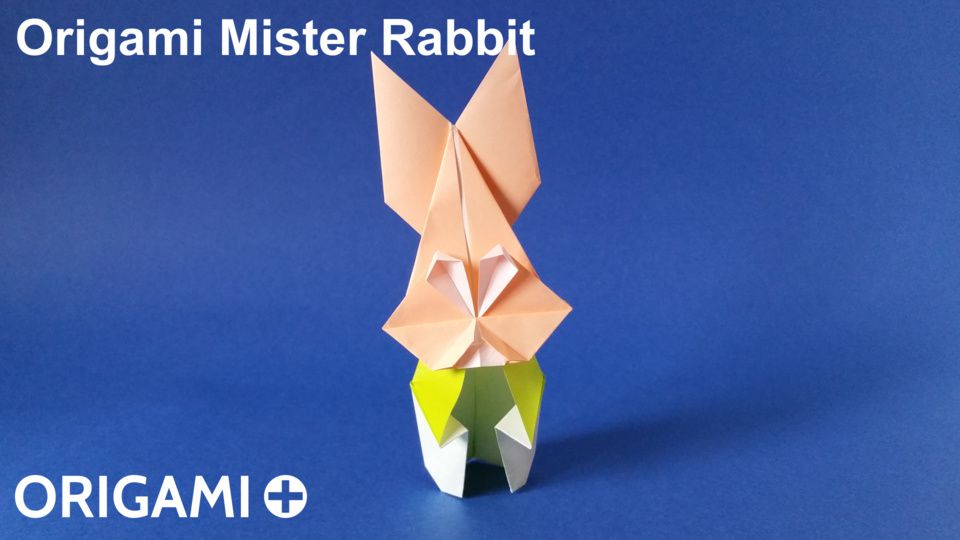 Original model created on 05/03/2017 - Published on 14/03/2017
Origami Mister Rabbit instructions and tutorial
Make your own Mister Rabbit for Easter! Follow the instructions of this easy step-by-step tutorial to make a body with a shirt and trousers for Mister Rabbit, and add the origami bunny face on top to complete your origami Easter bunny. You do not need to cut or to glue, and Mister Rabbit can stand by himself, so you can proudly display it on your desk or at home.
To make the origami rabbit head, you will need one square piece of paper with a different color on each side, and then follow my tutorial for the rabbit face.
Once you have completed the face, you can make a body for your origami bunny, and turn it into a cute Mister Rabbit (or a Bugs Bunny if you prefer). Then all you will need is a paper carrot! :-)
To make the body of the rabbit, you will need a square piece of paper of the same size as the paper you used for the head. Then just follow the easy instructions in this video tutorial.
The head has a small pocket where you can insert the tip of the body, so that they stay together. No tape or glue needed.
Important : this origami Mister Rabbit is an original origami model designed by Stéphane Gigandet and protected by copyright laws. Do not publish videos, tutorials, diagrams, instructions etc. that show how to fold Mister Rabbit, and instead embed this video or link to it. Thank you!
Origami Mister Rabbit video instructions
To make a Mister Rabbit in origami, please follow the instructions from this video on YouTube:
Please share this Mister Rabbit with your friends!