Origami Mrs Ghost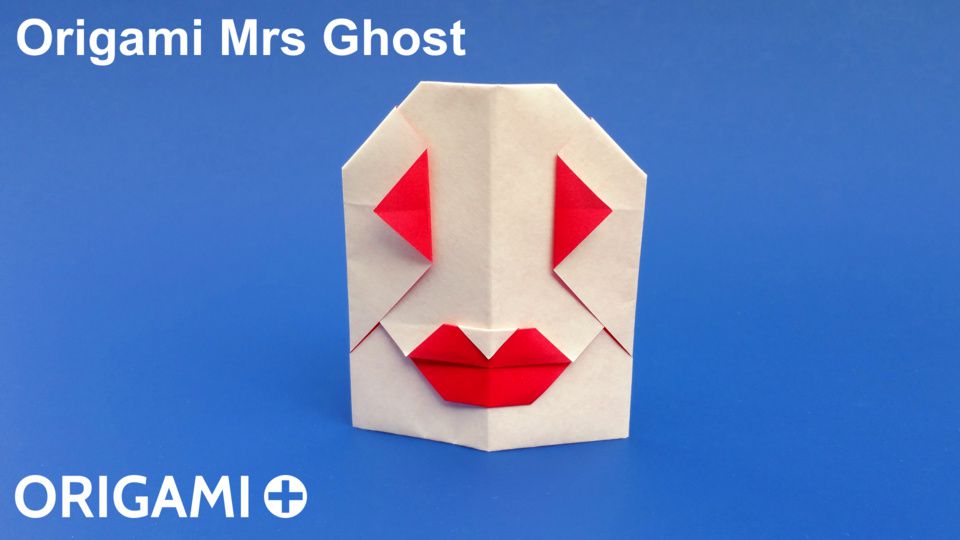 Original model created on 01/09/2017 - Published on 24/10/2017
Origami Mrs Ghost instructions and tutorial
Learn how to fold the beautiful Mrs Ghost origami model in a few minutes. It is a perfect origami for Halloween, and of course it goes very well with the matching origami Mr Ghost. Mrs Ghost has a lovely smile and lipstick.
To make this origami Lady Ghost, you need a square piece of paper with a different color on each side. In this video tutorial, I use a 15x15 cm square (about 6x6 inches). Standard origami paper (kami) with a white side and a colored side is perfect for this model.
Mr. Ghost and Mrs. Ghost are two models from my new book "Origami for Halloween", available in English, French, Spanish and soon German and Czech from Amazon, and in eBook versions on Origami Shop. You can find more details about the models in the book and where to buy it on a the book site: https://origamiforhalloween.com
The book contains 10 original origami models, that are easy, fun and creative. I recommend it in particular to kids and beginners (it can be a great gift to get someone to start origami), and more experienced folders have been giving it very good reviews as well. :-)
Important: Mrs. Ghost is an original origami model created by Stéphane Gigandet, protected by copyright. Please do not publish instructions, videos, tutorials, diagrams etc. that show how to fold this model, and instead link to this video or embed it. Thank you!
Origami Mrs Ghost video instructions
To make a Mrs Ghost in origami, please follow the instructions from this video on YouTube:
Please share this Mrs Ghost with your friends!