Origami Mrs Rabbit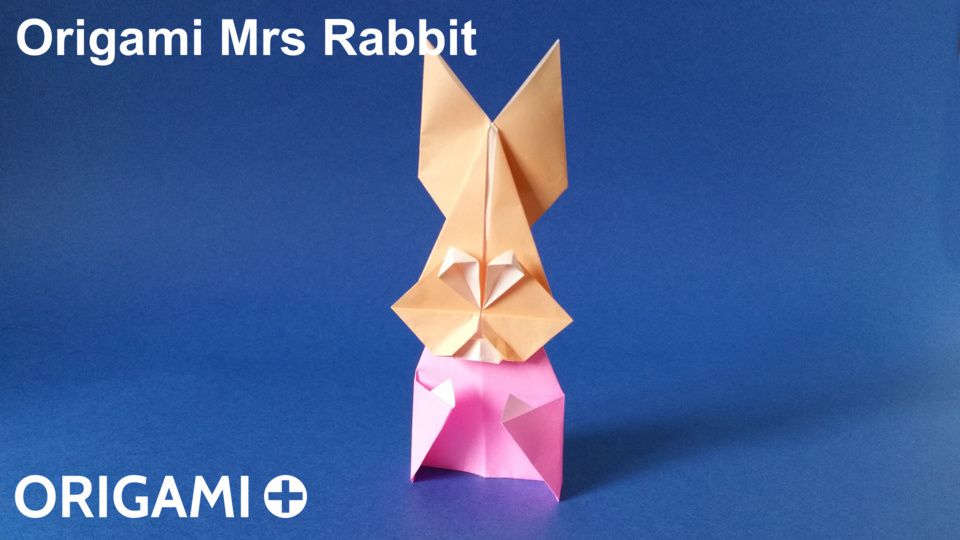 Original model created on 05/03/2017 - Published on 15/03/2017
Origami Mrs Rabbit instructions and tutorial
Just in time for Easter, here is a very easy Misses Rabbit origami tutorial. This cute bunny lady goes very well with the Mister Rabbit origami model, and you can make a complete family of origami Easter bunnies!
This video shows how to fold the origami dress of Misses Bunny, from one square piece of paper.
You will also need another square piece of paper to make the Easter bunny face, here is the easy tutorial: https://www.youtube.com/watch?v=pRIInjYBTYo
Once you have folded both the dress and the face of Misses Rabbit, you can join them together (no glue needed, there is a pocket to insert the head on top of the dress). You can make a flat Misses Rabbit, or you can make her stand in 3D.
And of course once you have folded Misses Rabbit, you should also fold the origami Easter Bunny! :-) The tutorial is here: https://www.youtube.com/watch?v=uSaSWqhsP1o&t=1s
Misses Rabbit, Mister Rabbit and the origami bunny face are original origami models created by Stéphane Gigandet and protected by copyright laws. Please do not make videos, tutorials, diagrams, instructions etc. that show how to fold those models, and instead link to this video or embed it. Thank you!
Origami Mrs Rabbit video instructions
To make a Mrs Rabbit in origami, please follow the instructions from this video on YouTube:
Please share this Mrs Rabbit with your friends!