Origami Penguin in a Tuxedo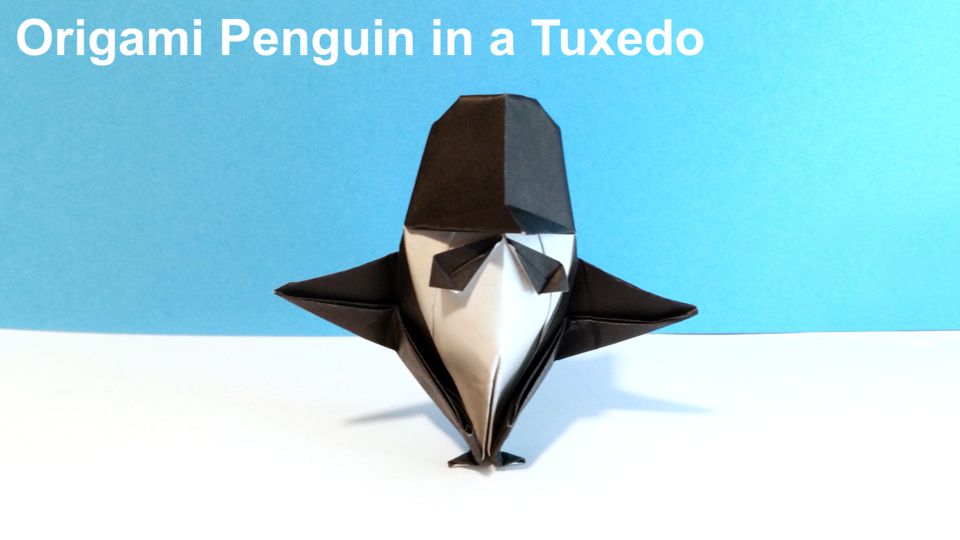 Original model created on 01/11/2017 - Published on 07/05/18
Origami Penguin in a Tuxedo instructions and tutorial
Learn how to make a very original origami penguin with a black suit and a bow tie! There are lots of different origami penguins models, including I think a traditional penguin, but this black and white guy has a lot of personality with his tuxedo and bow tie. It can even stand on its tiny feet, and with his wings extended, he looks a bit like an equilibrist from a circus.
I like this penguin origami model a lot, not only because of its unique character, but also because it came out from nowhere! I had been trying to create an origami badminton shuttlecock (the "ball" of badminton) model, and I succeeded after many hours and fruitless tries. And then with just a few more folds, my origami shuttlecock turned into what looked like an origami monk or paper Buddha. But there where extra unused tips of paper in the Buddha model that I showed in the last video, and those tips could make great eyes I thought. In the end, I turned them into a bow tie instead of eyes, and the rest of the penguin quickly followed. :-)
To fold the origami penguin, you need a square piece of paper with 2 different colors (white and black, or white and a dark color is a great choice to make the tuxedo of the penguin). In the video, I use a 15x15 cm (about 6 inches) square of origami duo paper, but it might be easier with slightly larger paper if you have some.
Origami Penguin in a Tuxedo video instructions
To make a Penguin in a Tuxedo in origami, please follow the instructions from this video on YouTube:
Please share this Penguin in a Tuxedo with your friends!