Origami Pinwheel Box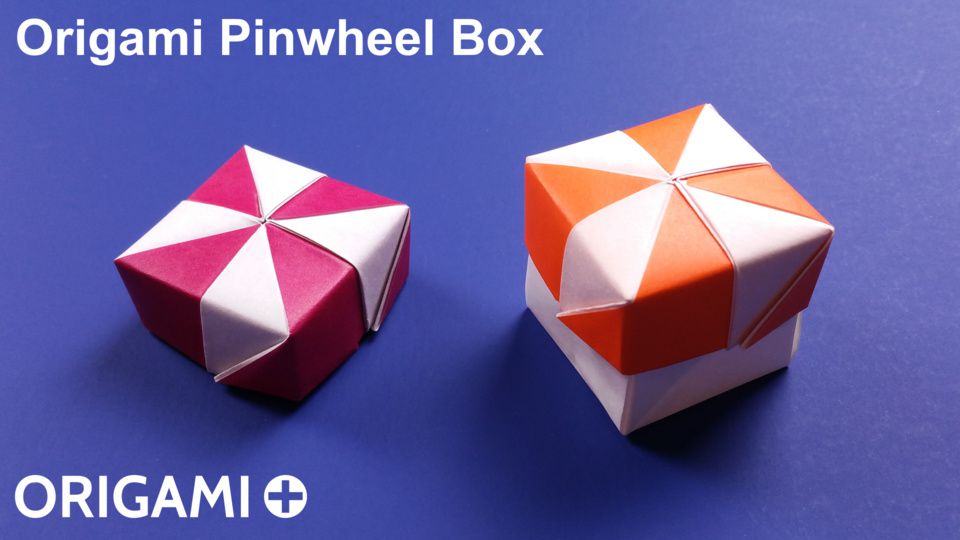 Original model created on 20/12/17 - Published on 23/12/2017
Origami Pinwheel Box instructions and tutorial
Learn how to make an origami box with a beautiful pinwheel / windmill pattern on the lid. Origami box making is fun and easy, just follow the step-by-step instructions of this origami tutorial to make your paper box! With red and white paper, this DIY gift box looks like a Candy Cane: it's perfect to wrap small Christmas gifts like earings or small jewels, or homemade origami presents.
This origami box is open: you can use it as is, or you can make two of them, with a slightly smaller box, so that you can use the bigger box as the lid.
To make an origami box with lid that opens and closes easily, you can also make an origami cube box and use the origami windmill box as the lid, like I show in the video. Here are the instructions to make the paper cube box.
To make the origami pinwheel box, you need 1 square of paper with a different color on each side. Regular "kami" origami paper with 1 colored side and 1 white side is perfect to make a nice looking windmill pattern. Try it in red and white to make it look like a Christmas candy cane!
In the video, I use a 15x15 cm square (about 6x6 inches) for the box lid, and for the cubic box I used a 14x14 cm square.
This paper box with lid is great for small gift wrapping. It's a variation of the origami pinwheel envelope that I showed in the last video. So if you learn how to fold one, it will be very easy for you to make the other. The pinwheel envelope is perfect for small cards or to wrap flat gifts, here is the tutorial for the origami pinwheel envelope.
Important: the origami pinwheel box is an original origami model created by Stéphane Gigandet and protected by copyright. Do not publish videos, diagrams, tutorials, photos, instructions etc. that show how to make this origami box, and instead link to this video or embed it. Thank you.
Origami Pinwheel Box video instructions
To make a Pinwheel Box in origami, please follow the instructions from this video on YouTube:
Please share this Pinwheel Box with your friends!