Origami Piranha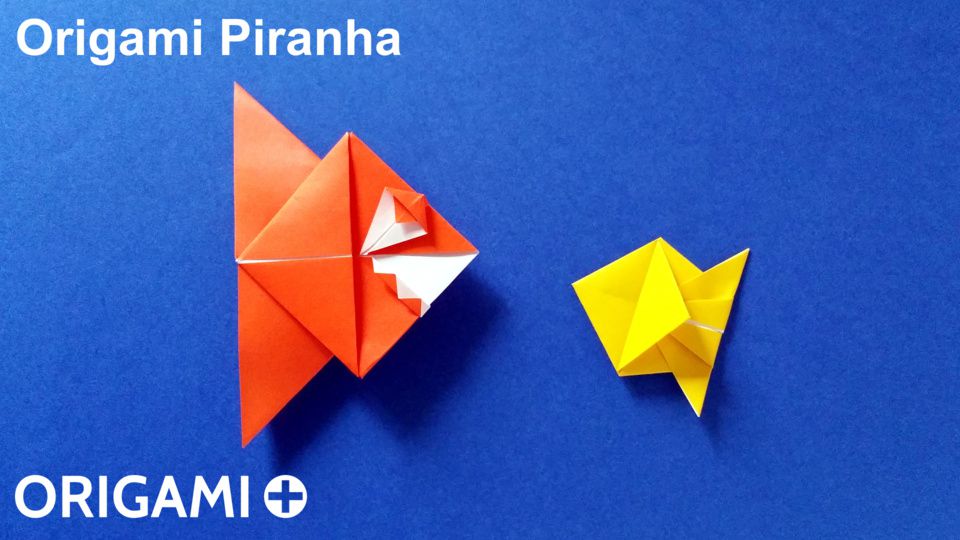 Original model created on 05/03/2017 - Published on 19/05/2017
Origami Piranha instructions and tutorial
When we think of origami fishes, the elegant and beautiful origami Koi carps come to mind, but this origami Piranha is a different kettle of fish! This paper Piranha has very sharp teeth, a big smile (or is that a grin?) and it looks like it's about to eat you!
This Piranha origami fish is similar to my Torpedo Shark origami model, with a shorter body and a wider tail.
To make the origami Piranha, you need a square piece of paper with a different color on each side. Origami paper like "kami" with a colored side and a white side is perfect. In the video I use a 15x15 cm sheet of paper. (about 6 inches).
When you are done folding your origami Piranha, I recommend folding a couple of those easy and cute origami tropical fishes so that your Piranha has a company at least until dinner time! :-)
Important note: this origami Piranha is an original origami model designed by Stéphane Gigandet and protected by copyright law. Do not publish tutorials, videos, diagrams, instructions etc. that show how to fold this piranha, and instead link to this video or embed it. Thank you.
Origami Piranha video instructions
To make a Piranha in origami, please follow the instructions from this video on YouTube:
Please share this Piranha with your friends!