Origami Pixels Flower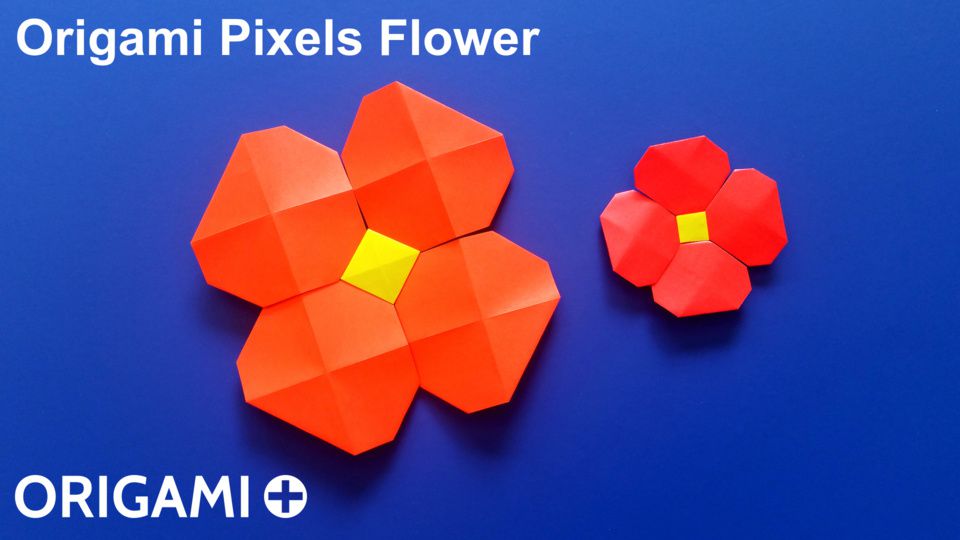 Original model created on 01/06/2017 - Published on 30/06/2017
Origami Pixels Flower instructions and tutorial
This beautiful flower is a very easy modular origami model that you can make in a few minutes. Each petal is made from 1 square of paper, and the center is made with a smaller square. The petals are joined to the center with 2 easy folds, and you do not need to cut or glue to make this simple origami flower.
The origami flower is an example of using the origami pixels modules that I designed (see how to make cool paper mosaics with origami pixels). Instead of using pixels of the same size, the center pixel is folded from a square that is one fourth of the size of the squares used for the petals of the flower.
This paper flower is an easy origami model that anyone can make, including kids and origami beginners. But even though it's very simple, it is very beautiful, especially if you make several flowers of different sizes. With a lot of tiny flowers of the same color and size, you can also make an origami hydrangea flower.
It is easy to make different variations of the flower, by doing different folds for the petals (e.g. to make it more round, or more angular). You can also curve the petals so that the flower is less flat, for instance to make a kind of wild rose. If you round the petals, you can make an origami primrose flower.
And of course in red it makes a great origami poppy flower!
Origami Pixels Flower video instructions
To make a Pixels Flower in origami, please follow the instructions from this video on YouTube:
Please share this Pixels Flower with your friends!