Origami Quick and Easy Christmas Tree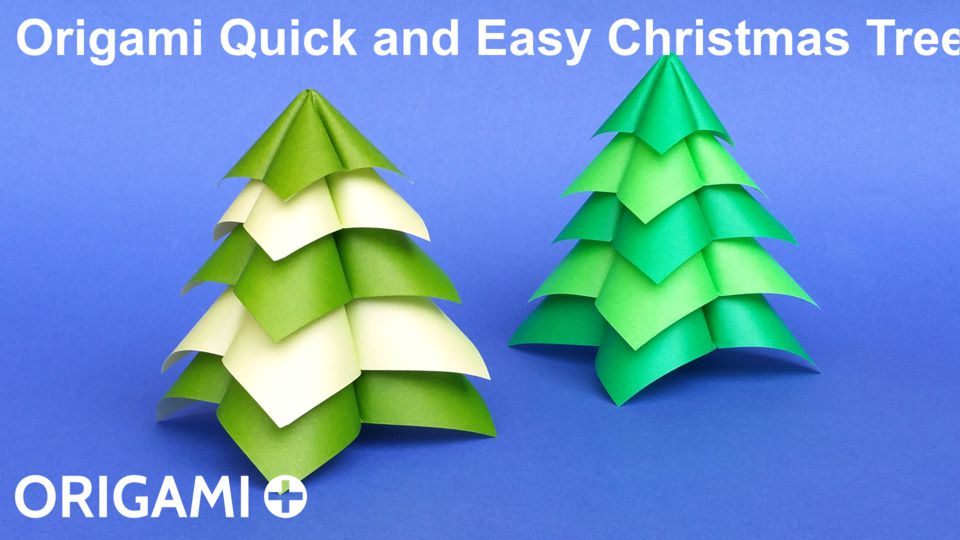 Original model created on 15/11/2016 - Published on 27/11/2016
Origami Quick and Easy Christmas Tree instructions and tutorial
It takes only 5 minutes to make this beautiful paper Christmas tree! Learn how to make this original and very easy 3D origami Christmas Tree with the instructions from this tutorial.
This modular origami Christmas Tree is a perfect DIY Christmas decoration to make for the Holidays. It is very easy and quick to make, so it is great for kids and origami beginners.
To make this origami Christmas Tree, you only need a few squares of paper of different sizes (at least 3 squares). No cuts, no tape, no glue, just paper!
In the video I'm making a Christmas tree with 5 levels, so I use 5 squares of 15x15, 13x13, 11x11, 9x9 and 7x7 cm (about 6x6 inches for the largest square). You can of course make much smaller or much bigger trees, with as many levels as you like.
You can use the same color for all levels, or mix different shades of green, or even make a white snow covered tree. You can use origami paper or gift wrapping paper with patterns too.
This tree does not have a trunk, it just stand on the largest module. It takes only one minute to fold one module, and the modules are very easy to put together.
Important note: this origami Christmas tree is an original origami model designed by Stéphane Gigandet and protected by copyright laws. Please do not publish tutorials, instructions, videos, diagrams etc. to show how to fold this Christmas tree. Instead please link to this video. Thank you!
I hope you will enjoy this origami Christmas Tree and that you will fold many beautiful paper Christmas Trees of all sizes and colors! Let's make a contest to see who can fold the tallest origami tree. :-)
Origami Quick and Easy Christmas Tree video instructions
To make a Quick and Easy Christmas Tree in origami, please follow the instructions from this video on YouTube:
Please share this Quick and Easy Christmas Tree with your friends!