Origami Saber-Toothed Tiger Mask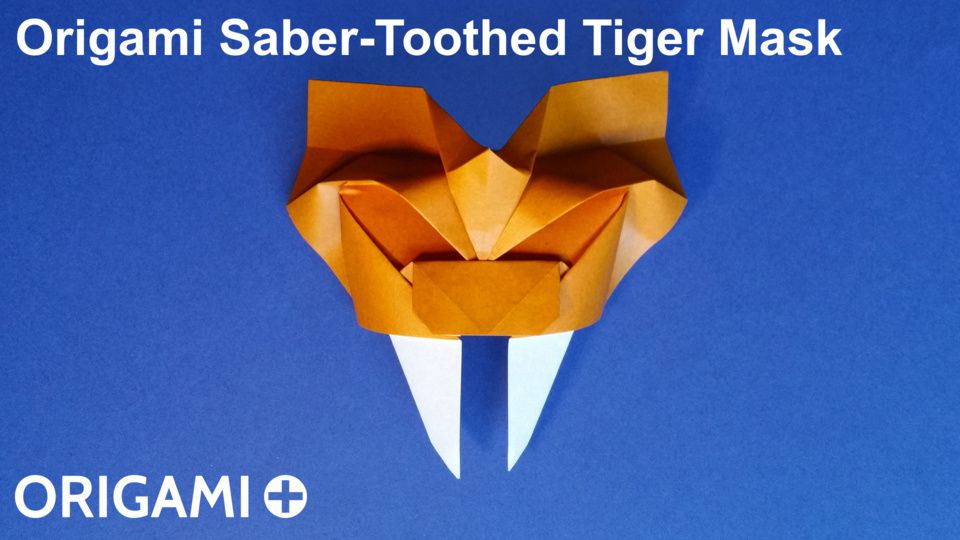 Original model created on 01/09/2016 - Published on 04/02/2017
Origami Saber-Toothed Tiger Mask instructions and tutorial
This DIY paper saber-toothed cat has big scary canine teeth shaped like sabres, like Diego the tiger in the Ice Age movies.
Easily make your own origami tiger mask from just one square piece of paper by following the simple instructions in this easy video tutorial.
You can use this origami tiger as a mask (you will need to cut out the eyes if you want to see something though), or you can display it on a wall like a paper animal trophy. This paper tiger also looks very cool when it is backlit, try sticking it on a window to let the light shine through.
To make your mask, you need one piece of origami paper with one colored side, and one white side for the tiger teeth. The mask I show at the beginning of the video is made from a 30x30 cm square of paper (about 12 inches). And the tiger I'm actually folding in the video is from a 15x15 cm square (about 6 inches). For this origami tiger model, it's best to use crisp origami paper ("kami" paper) that you can find in most art and crafts stores and online at shops like Origami Shop.
Important: this fierce origami tiger is an original origami model created by Stéphane Gigandet and protected by copyright laws. Please do not publish videos, diagrams, crease patterns, tutorials, instructions etc. that show how to make this origami tiger, and instead point to or embed this video. Thank you!
Origami Saber-Toothed Tiger Mask video instructions
To make a Saber-Toothed Tiger Mask in origami, please follow the instructions from this video on YouTube:
Please share this Saber-Toothed Tiger Mask with your friends!