Origami Scary Halloween Pumpkin Box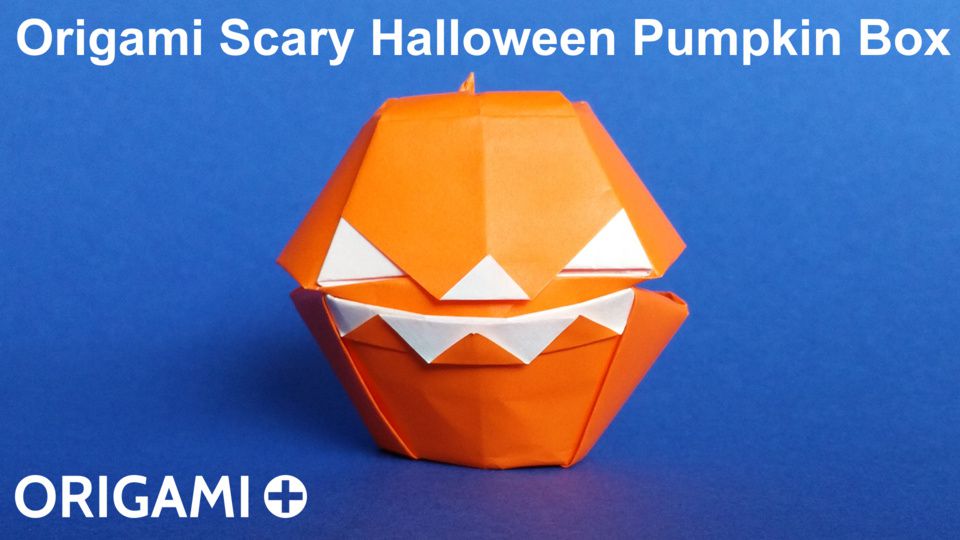 Original model created on 22/09/2016 - Published on 10/10/2016
Origami Scary Halloween Pumpkin Box instructions and tutorial
Here is a great Halloween decoration idea: learn how to make a scary paper pumpkin box to decorate your house for Halloween! This Origami Pumpkin is an easy origami model and a fun DIY decoration project that anyone can make. It's complete with scary eyes, nose and teeth, and even a stem to lift the lid of the pumpkin box.
This pumpkin is a box that you can use to store small pieces of Candy, or you can try to put a LED candle in it to make a cool Jack O'Lantern that glows in the night.
To make your origami pumpkin box, you will need 2 square pieces of paper with a different color on each side (Orange and white or orange and black would be perfect). In the video I use orange and white 15x15 cm squares. You can of course use smaller or larger pieces of paper to make smaller or larger pumpkins.
If you do not have orange paper with a white or black side, you can use white paper and color one side with pencils, crayons, ink or paint, or you can try my other origami pumpkin box model that you can draw on (and this one does not have to be scary, you can make a cute smiling pumpkin!).
Once you have your two squares of paper, just follow the folding instructions and this step-by-step video tutorial.
This pumpkin model is not difficult, so you can make paper Jack O'Lanterns with kids and try to see who can make the scariest pumpkin.
Origami Scary Halloween Pumpkin Box video instructions
To make a Scary Halloween Pumpkin Box in origami, please follow the instructions from this video on YouTube:
Please share this Scary Halloween Pumpkin Box with your friends!