Origami Skull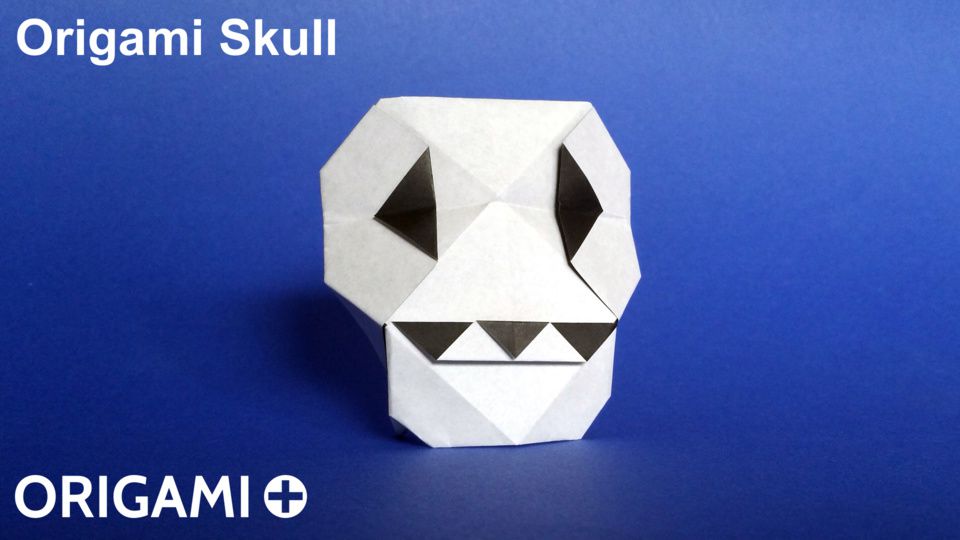 Original model created on 15/10/2016 - Published on 21/10/2016
Origami Skull instructions and tutorial
Make a cool origami skull with one square of paper and use it to decorate your house for Halloween! This paper skull is very easy to make. It is a little bit in 3D and it can stand, so you can use it as is and put it on your desk or table, or you can use it as the head of a skeleton, or add paper crossbones to make a cool decoration for your next Pirates themed party! You can also decorate or paint your paper skull like a Mexican Calavera for el dia de los muertos. It can be a great Halloween craft idea / activity for kids!
To make this skull, you need a square of paper (I used 15x15 cm in the video, about 6x6 inches, but you can easily make smaller skulls) with white on one side, and a darker color on the other side. Only a tiny piece of dark will show, so you can also use plain white copy paper, and just color the eyes and teeth at the end.
Once you have your square piece of paper, you can make your origami skull by following this step-by-step video tutorial.
This skull is a variation of the first origami model I designed just one year ago, a cute origami Halloween pumpkin.
At the end of the video I show some pictures of origami Halloween pumpkins that some of you have folded (including a giant pumpkin and many other cool origami pumpkins!). Thanks a lot for folding those models and sending me pictures!
I also show the origami Halloween pumpkin patch, with the map.
Origami Skull video instructions
To make a Skull in origami, please follow the instructions from this video on YouTube:
Please share this Skull with your friends!