Origami Smiling Santa Claus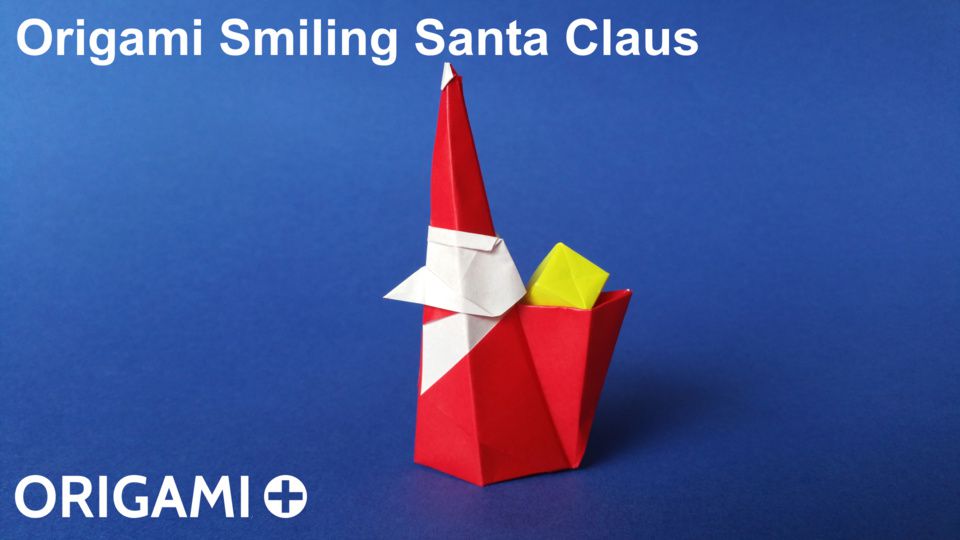 Original model created on 15/12/2016 - Published on 16/12/2016
Origami Smiling Santa Claus instructions and tutorial
Just in time for Christmas, here is my new origami model, a cute Santa Claus with a big smile on his face, a pointy nose and a gift bag full of Christmas presents! This smiling origami Santa Claus is perfect as DIY Christmas Tree ornament or Christmas Decoration. This origami Santa Claus is very easy to make, and you only need 10 minutes to fold it, from one single square of paper.
I know that there are already hundreds of origami Santa Claus models, but this one has a lot of personality: it has a very pointy nose, and it is smiling. Why settle for a grumpy Santa Claus when you can make a smiling Santa? :-)
And this Santa has a gift bag, which you can fill with origami gifts and toys, cubes, boxes etc. And there's a white pom pom on Santa's hat.
In the tutorial, I show how to make a 2D flat version of this Santa, as well as a 3D Santa Claus that stands and that you can easily put in a Christmas Tree to decorate it, and even use as a finger puppet!
To make this origami Santa Claus, you will need one square piece of paper, with a different color on each side (I recommend red and white!).
In the video, I use 15x15 cm paper (about 6 inches).
The yellow Christmas gift that I put in Santa's bag is my cubic box made from 1 square of paper (I used 5x5 cm). Origami cube box tutorial (video).
Important note: this Santa Claus is an original origami model designed by Stéphane Gigandet, and it is protected by copyright laws. Please do not publish videos, tutorials, diagrams, photos, instructions etc. that show how to fold this Santa, and instead link to this video. Thank you.
Origami Smiling Santa Claus video instructions
To make Smiling Santa Claus in origami, please follow the instructions from this video on YouTube:
Please share this Smiling Santa Claus with your friends!