Origami Snowy Christmas Tree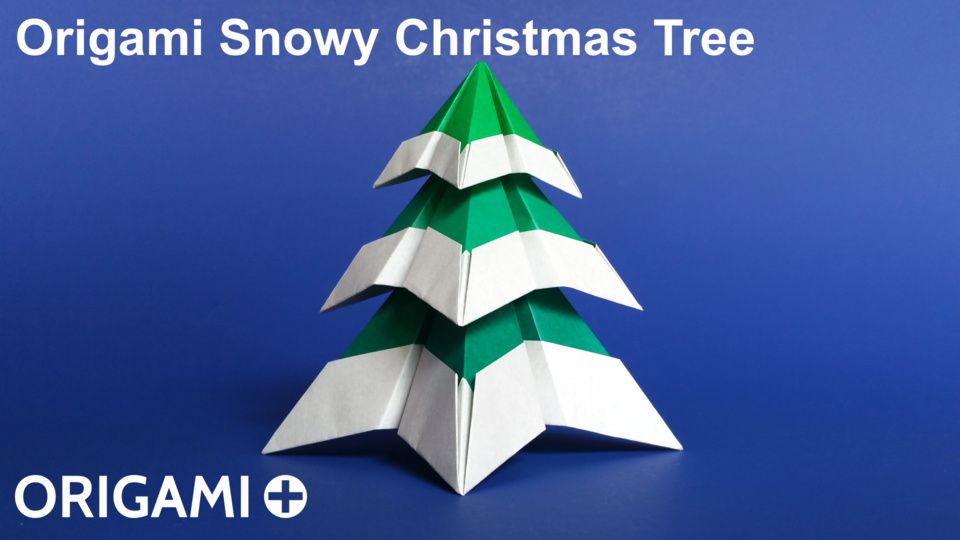 Original model created on 1/11/2017 - Published on 17/11/2017
Origami Snowy Christmas Tree instructions and tutorial
Learn how to make a beautiful Origami Christmas Tree with snow on its branches. To make your easy DIY paper Christmas Tree, you just need 3 squares of paper. No glue! Follow the easy step-by-step instructions of this video tutorial to fold your origami Christmas tree. The Christmas tree is in 3D and can easily stand, so you can use for Christmas decorations, to decorate your home for the Holidays, or make a big paper Christmas Tree for your table center. If you make a small paper Christmas tree, you can also use it as DIY Christmas ornament for your real Christmas tree!
This snowy paper tree is a 2 colors variation of my very easy Christmas tree origami model from last year.
To make this DIY paper Christmas tree, you need at least 3 squares of paper with different colors or patterns on each side. Origami paper (kami) with a colored side and a white side is perfect as the white will make the snow on the branches. If you don't have origami paper, you can also use gift wrapping paper.
You need squares of different sizes for each level of the origami Christmas tree.
Here are the sizes I used in the video, but you can use different sizes, and you can make a tree with more than 3 levels.
Small square: 7.5 cm / 3 inches.
Medium square: 11.5 cm / 4.5 inches.
Large square : 15 cm / 6 inches.
You can make taller 3D Christmas trees with more levels.
Origami Snowy Christmas Tree video instructions
To make a Snowy Christmas Tree in origami, please follow the instructions from this video on YouTube:
Please share this Snowy Christmas Tree with your friends!