Origami Talking Halloween Pumpkin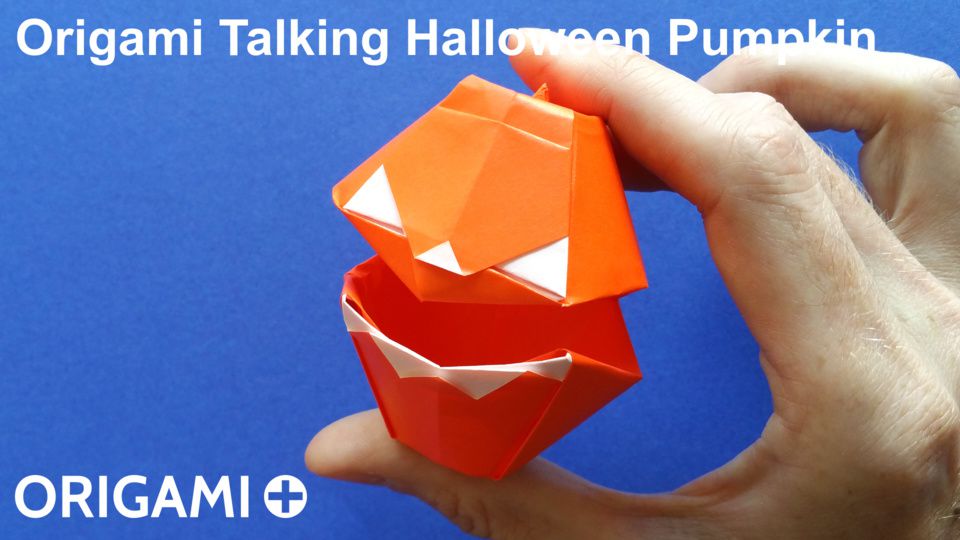 Original model created on 13/10/2016 - Published on 16/10/2016
Origami Talking Halloween Pumpkin instructions and tutorial
This origami Halloween pumpkin can talk and bite! Watch your fingers! It has springy jaws that you can open and close with 2 fingers of one hand. This paper talking pumpkin is easy to make and it's a great Halloween decoration and paper toy!
To make the talking pumpkin, you only need 2 square pieces of paper with a different color on each side (orange on one side and white or black on the other side). I used 15x15 cm squares (about 6x6 inches). With this size, the origami model is easy to fold and the resulting pumpkin will fit well in your hand.
Once you have your orange origami paper (or just plain paper that you color on one side), just follow the step-by-step instructions from this video tutorial.
This pumpkin is a new variation of my origami Halloween pumpkin box. Instead of making an unattached lid that you can lift, for the talking pumpkin, the top and the bottom halves are attached, and the mouth will be open. Using your fingers and just one hand, you can easily close the mouth of the pumpkin. Then release your fingers and the mouth will open again. That way you can give the impression that your origami pumpkin is talking!
I would like to thank Yves Clavel for the idea to attach the top and bottom parts of the pumpkin, and Kaze for the suggestion to make a pure origami version of the pumpkin with 2 colors paper to make the eyes, nose and teeth. It's fantastic to have feedback and suggestions to improve the models, thank you very much! :-)
There's an easier version of this pumpkin that does not talk but that you can use as nice box or DIY decoration for Halloween. You can draw eyes and teeth on it and make a lot of different versions. (if you are looking for easy craft ideas, it's a great activity to do with kids!)
And there is scary Halloween pumpkin box which is almost the same as the pumpkin that talks.
Origami Talking Halloween Pumpkin video instructions
To make a Talking Halloween Pumpkin in origami, please follow the instructions from this video on YouTube:
Please share this Talking Halloween Pumpkin with your friends!