Origami Torpedo Shark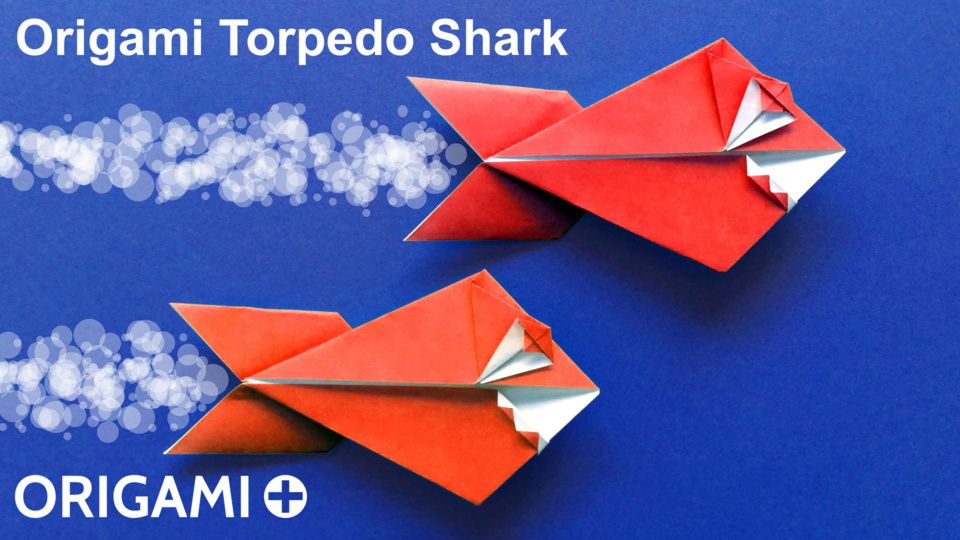 Original model created on 05/03/2017 - Published on 31/03/2017
Origami Torpedo Shark instructions and tutorial
It's fun to make paper fishes and hang them to your friends' backs, but it's even more fun when it's a cool origami shark with sharp teeth and an evil grin! Learn to make this cool origami fish with this very easy tutorial.
This origami torpedo shark is a new model that started out as a cute origami Easter Bunny, but some mad scientist decided to alter the fold structure to turn a very kind paper rabbit into a grinning sharp toothed rocket propelled torpedo shark! It is a GMO model (Genetically Modified Origami).
If you have already folded my Mister Rabbit or Bunny Face model, you can change a few folds to turn it into this paper shark (recycling origami is good for the planet).
To fold the origami shark, you need 1 square piece of paper, with a different color on each side ("duo" origami paper). In the video, I use a 15x15 cm square (about 6 inches). You can use smaller paper but it will be more difficult to fold the eye of the shark.
Important note: this origami shark is an original origami model designed by Stéphane Gigandet, protected by copyright laws. Please do not publish tutorials, videos, diagrams, instructions etc. that show how to fold this paper shark, and instead point to this video or embed it. Thank you!
Origami Torpedo Shark video instructions
To make a Torpedo Shark in origami, please follow the instructions from this video on YouTube:
Please share this Torpedo Shark with your friends!