Origami Triangular Prism Box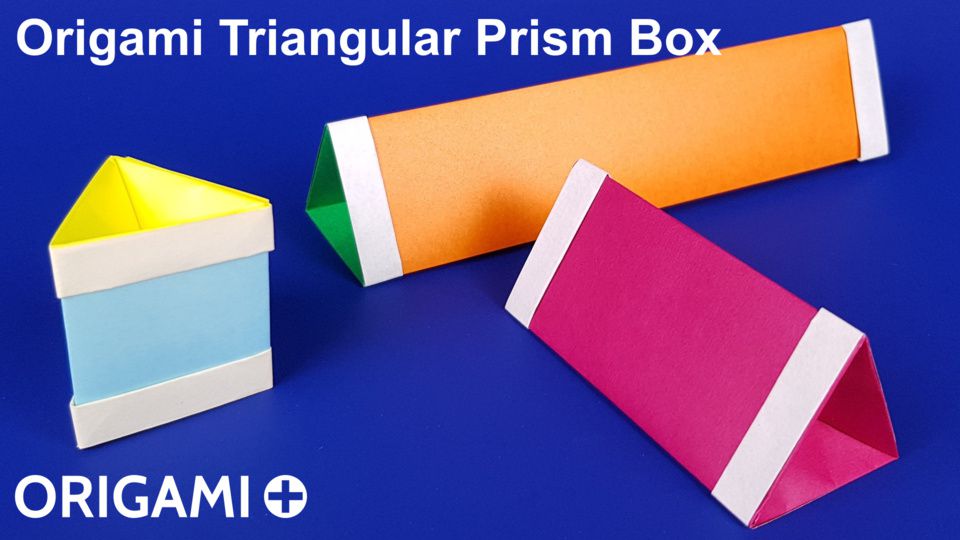 Original model created on 01/07/18 - Published on 15/08/2018
Origami Triangular Prism Box instructions and tutorial
Learn how to make an easy triangular origami box with a lid to put small gifts and presents. This new easy origami gift box has in fact 2 lids that you can easily open and close, and you can make a small paper box, a medium box, or a long origami box depending on what you plan to put inside. Each origami prism box is made from 3 pieces of paper: 1 for each lid and 1 for the body. And the lid has a color change so you can create paper boxes in many different color combinations.
This easy origami prism box is my newest origami model. What I like the most about it is that it's easy to join boxes together to create structures that look like molecules with atoms joined by triangular paper tubes. In this video, I show a kusudama ball that I made by joining (just folding, no glue) 30 origami prism boxes. The final paper ball has 30 square faces, 20 equilateral triangle faces and 12 pentagon faces. It's called a small rhombicosidodecahedron, a solid discovered by Archimedes. I will show you how to fold it (the sides are slightly different in order to be more solid) and how to join the modules together in the next video.
To fold the triangular origami box, you need 3 pieces of paper: - 2 1 by 4 rectangles (1 for each lid) - 1 1 by 4, 2 by 4 or 4 by 4 rectangle or square for the body.
To fold a medium box, you can just use one square of paper that you first cut in 2 halves. 1 half will be the body. Then cut again 1 half in 2 long strips of paper to make the lids.
In the video I show how to make the lid of the box twice (the second time is much easier and quicker, and as you get practice, you will be even more quick!), and the easiest way to make the body. To make a stronger body, you can make one more fold so that each side has 2 layers, I will show you how to do it in the next video, as the stronger type is better to make modular origami constructions like the ball.
Important note: this triangular origami box is an original origami model created by Stéphane Gigandet protected by copyright law. Do not publish videos, instructions, diagrams, tutorials etc. that show how to fold this origami box, and instead link to this video or embed it. Thank you!
Origami Triangular Prism Box video instructions
To make a Triangular Prism Box in origami, please follow the instructions from this video on YouTube:
Please share this Triangular Prism Box with your friends!