Origami Tricorne Pixels for 3D Paper Wall Art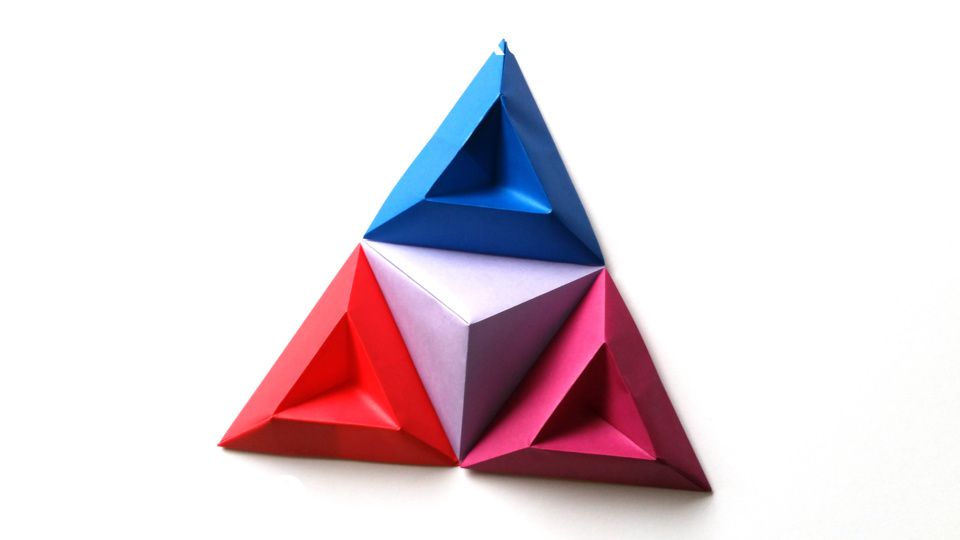 Original model created on 15/04/2017 - Published on 15/05/2017
Origami Tricorne Pixels for 3D Paper Wall Art instructions and tutorial
Got a white wall? Create awesome 3D wall art with easy to make origami tricornes! No cuts and no glue needed, you just need one square of paper to create an origami tricorne, and you can join them together by folding on the back. You can then display your wall decor by hanging it on the wall to decorate your room. This easy tutorial will show you how to fold the paper tricorne and how to assemble them to create cool compositions.
Those new origami tricorne pixels are compatible with the origami pyramid pixels I created and showed in the last video.
So you can mix and match origami tricornes and pyramids (and also the flat square and triangle pixels) to create stunning wall art!
If you haven't tried the origami pyramids pixels yet, I recommend you try them first as they are slightly easier to make and you will get a good feel of how to join the pixels together.
To make each origami tricorne, you need one square of paper. In the video I use 15x15 cm so that you can see well, but you can use a smaller square to make a smaller tricorne. It all depends on how big the wall you want to decorate is!
Important note: this origami tricorne pixel is an original origami model designed by Stéphane Gigandet and protected by copyright laws. Do not publish videos, diagrams, instructions, tutorials etc. that show how to fold and join this paper tricorne, and instead link to this video or embed it. Thank you.
Origami Tricorne Pixels for 3D Paper Wall Art video instructions
To make a Tricorne Pixels in origami, please follow the instructions from this video on YouTube:
Please share those Tricorne Pixels with your friends!