Origami Trixel Unit and Wind Rose Star Mosaic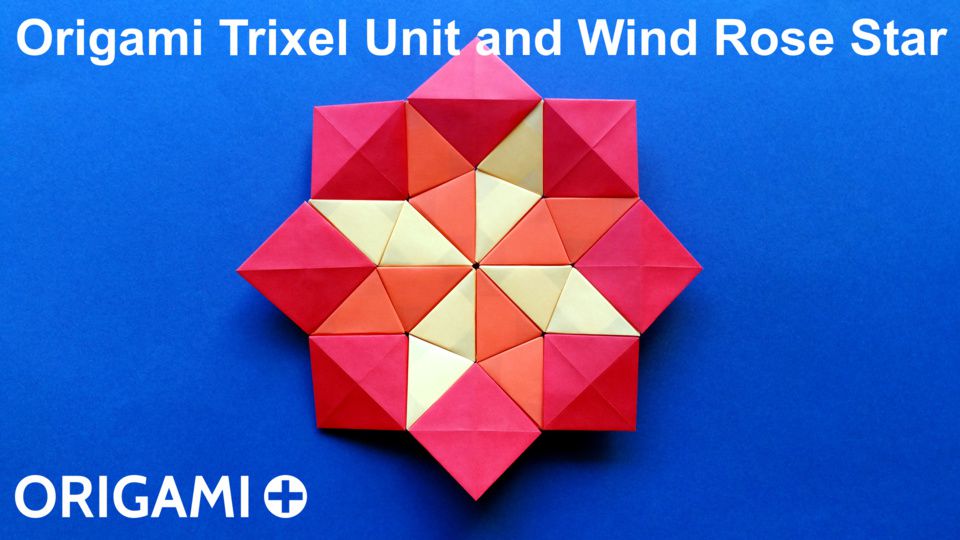 Original model created on 01/03/2017 - Published on 09/04/2017
Origami Trixel Unit and Wind Rose Star Mosaic instructions and tutorial
Origami trixels are new triangular origami tiles that you can combine with origami pixels to create cool mosaics, just by folding squares of paper. Learn how to fold a paper trixel and how to join it to other pixels and trixels to create a beautiful origami star mosaic. It can make a nice origami wind rose too!
For this origami trixel tutorial, I use big 15x15 cm squares of paper so that you can see better how to make them and how to attach them to othehr tiles. The resulting trixels are very big, you can use them to create huge mosaics and murals. For a smaller mosaic, I recommend using smaller squares, such as 7.5x7.5 cm or 3.75x3.75 cm.
Trixels and pixels are made by folding square pieces of paper, and they are compatible, so you can join pixels to pixels, trixels to trixels, and pixels to trixels. Use the same size of paper for both.
This video also includes a timelapse that shows how to join 16 triangle trixels and 8 square pixels to make a beautiful paper star. This star is a common pattern in Arabic mosaics such as the ones of the Alhambra Palace in Granada, Spain.
Origami Trixel Unit and Wind Rose Star Mosaic video instructions
To make a Trixel unit in origami, please follow the instructions from this video on YouTube:
Please share this Trixel unit with your friends!